Explore the Thrills of Dubai with Our Best Dune Buggy Tours
When it comes to experiencing the mesmerizing beauty and adrenaline-pumping adventures of Dubai's desert landscapes, there's nothing quite like our dune buggy tours. Step into a world of excitement and natural wonder as we take you on a journey through the pristine sands of Dubai's deserts. Get ready for an unforgettable adventure that will leave you breathless and craving for more.
Unleash Your Inner Adventurer
Discover the Magic of Dubai's Deserts
Dubai is renowned for its opulence and modernity, but it's also home to some of the most stunning desert landscapes in the world. Our dune buggy tours allow you to escape the bustling city life and immerse yourself in the tranquility and grandeur of the desert.
As you embark on this thrilling journey, you'll find yourself surrounded by towering sand dunes that stretch as far as the eye can see. The shifting sands create a dynamic and ever-changing landscape that is a true marvel of nature. The desert's unique ecosystem is home to a variety of flora and fauna adapted to survive in this harsh environment. From the resilient desert plants to the elusive desert wildlife, there's a world of wonder waiting to be discovered.
The Ultimate Off-Road Experience
Our dune buggies are not just vehicles; they are your ticket to an off-road adventure like no other. Designed for both beginners and seasoned thrill-seekers, our buggies are easy to handle yet powerful enough to conquer the challenging desert terrain. You'll be in full control as you navigate the dunes, experiencing heart-pounding moments at every turn.
Feel the adrenaline rush as you tackle steep dunes, navigate through narrow canyons and speed across the open desert. Our experienced guides will ensure your safety while providing you with the freedom to explore and have an unforgettable experience.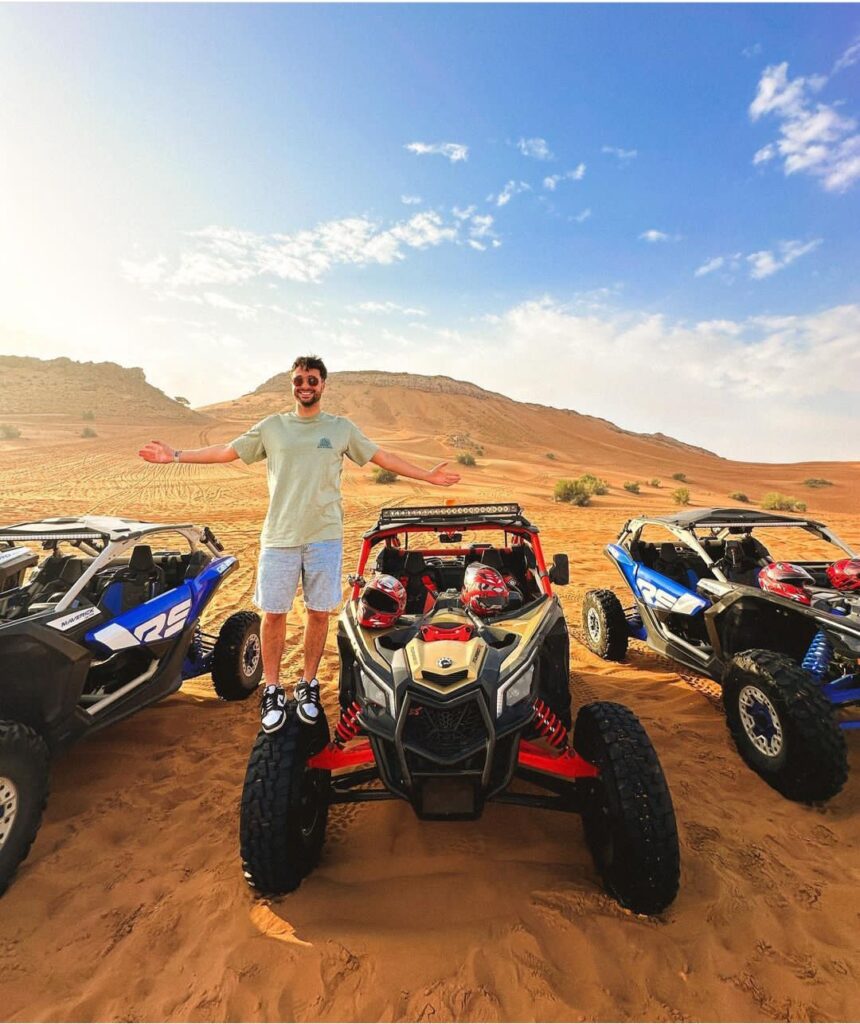 Our Dune Buggy Dubai Tours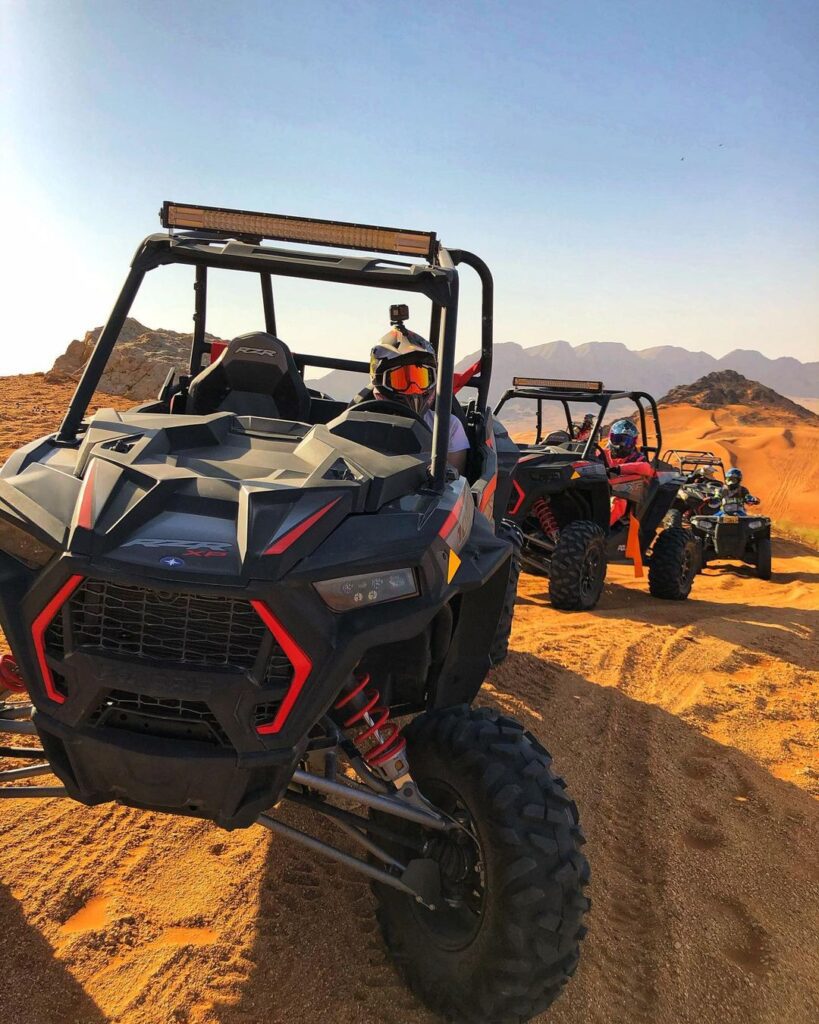 Why Choose Our Dune Buggy Tours
Unmatched Expertise
We take pride in being the leader in dune buggy tours in Dubai. With years of experience and a deep understanding of the desert's intricacies, our expert guides ensure your safety while providing an informative and entertaining journey.
Our guides are not just knowledgeable; they are passionate about the desert and its unique ecosystem. They'll share insights into the desert's geology, history, and the fascinating adaptations of desert life. You'll leave our tours not only with thrilling memories but also with a deeper appreciation for this remarkable environment.
Spectacular Views
The desert landscape offers an ever-changing canvas of colors, especially during sunrise and sunset. Our tours are timed to perfection, allowing you to witness the mesmerizing desert vistas at their best.
Imagine the sun dipping below the horizon, casting a golden hue over the dunes, and painting the sky with shades of pink and purple. It's a sight that will take your breath away and leave you reaching for your camera to capture the magic of the moment.
Memories to Last a Lifetime
Whether you're an adventure enthusiast, a nature lover, or a photographer looking for the perfect shot, our dune buggy tours promise an experience that will stay with you forever. Capture the beauty of the desert and the joy of adventure in every moment.
As you navigate the dunes and take in the stunning panoramas, you'll find yourself in awe of the vastness and grandeur of the desert. It's a place where time seems to stand still, and the silence of the dunes is interrupted only by the whispers of the wind.
Explore Beyond the Dunes with Our Thrilling Dune Buggy Tours in Dubai Today!
Our tours go beyond the thrills of dune bashing. We offer a glimpse into the rich culture and heritage of the region. You'll have the opportunity to visit a desert camp where you can experience traditional Emirati hospitality.
Savor the flavors of authentic Emirati cuisine, including delicious barbecue dishes and sweet treats like dates and Arabic coffee. Immerse yourself in the traditions of the desert, from camel rides to henna painting. It's a chance to connect with the history and culture of Dubai's desert communities.
As the sun sets and the desert comes alive with the brilliance of a thousand stars, we offer a unique stargazing experience. The clear desert skies provide the perfect backdrop for exploring the cosmos. Our expert astronomers will guide you through the constellations, planets, and celestial wonders that grace the night sky.
It's a moment of serenity and contemplation, far removed from the hustle and bustle of the city. Whether you're a seasoned stargazer or new to astronomy, the desert's unpolluted skies will leave you awe-inspired.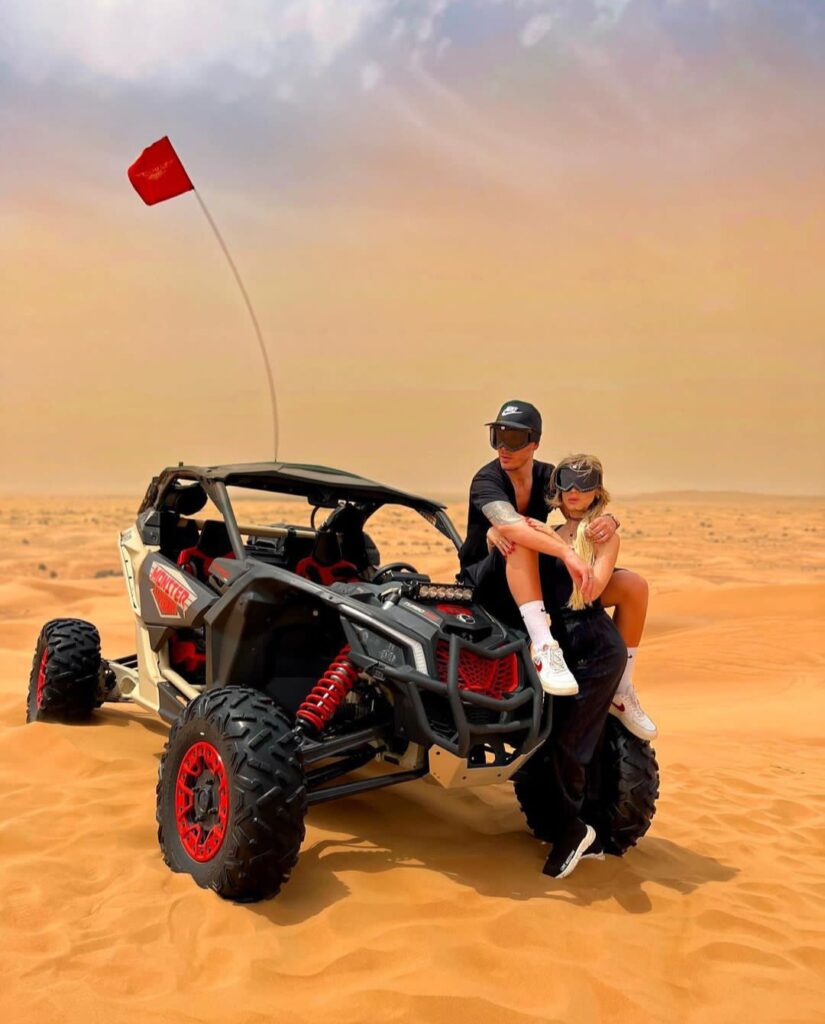 Dune Buggy Tour Packages: Embark on a Desert Journey Like No Other
Initiate your captivating voyage through the Dubai Desert with the expertise of specialists. Our array of tailored Dune Buggies is at your disposal, inviting you to delve into the heart of the Dubai Desert. Indulge in the exhilaration of a Desert Buggy Dubai ride and savor an exquisite dinner amidst the sweeping sands. Forge indelible memories that beckon to be shared time and again.
Dune Buggy Dubai: Craft Your Adventure
Prepare to partake in the Desert Dune Buggy Dubai Adventure, a quintessential experience that seamlessly combines with our diverse array of packages, including the captivating Dinner in the Desert offers. Begin your adventure with a seamless pickup service from any location in Dubai and Sharjah, available at an affordable rate of 200 dirhams per person, or the exclusive option for only 500 dirhams. Your journey commences as you are transported to our desert camp, where a traditional welcome awaits.
At the camp, be greeted with our quintessential and age-old beverage, the Arabian Qahwa, or take your pick from a selection of beverages including coffee, tea, and more. The symphony of flavors sets the tone for the adventure ahead, a journey you've long desired.
Polaris Buggy Tours in Dubai: A Symphony of Choices
Our fleet comprises a kaleidoscope of dune buggies, each meticulously designed to cater to your preferences and desires. Choose from:
The Two-Seater Polaris RZR Dune Buggy 1000cc
The Single-Seater Polaris RS1 Buggy 1000cc
The Four-Seater Polaris RZR Turbo Buggy 1000cc
Each buggy serves as a testament to our commitment to providing tailored experiences, ensuring your adventure aligns seamlessly with your heart's desires.
Crafting Uniqueness: Personalized Experiences
Every facet of our buggy tours is thoughtfully curated and embellished with safety. Your journey is an embodiment of bespoke craftsmanship, orchestrated to offer both excitement and security.
Join us on this voyage of authenticity and exploration. Let the dunes serenade you with their secrets, and the sands be witness to your adventures. Unearth the essence of Dubai's desert with Dune Buggy Dubai Packages, where every path leads to a unique tale waiting to be told.
Frequently Asked Questions
Is a Driver's License Required for Driving?

No, a driver's license is not required.

What Are the Payment Procedures?

Payments can be made in cash upon pickup, through cash deposit in the ATM account, or via bank transfer.

How Can I Book My Tour?

To book your tour, please call or WhatsApp us at +971 50 104 8967. Alternatively, you can use the "Book Now" buttons or the WhatsApp button above to send us your details for booking confirmation.

What is the Duration of the Tour?

Tour durations vary and will be provided at the time of booking. We offer different tours such as 1 hour, 2 hours, 3 hours, full-day tours, and more.

What is the Minimum Age Requirement?

Dune Buggy drivers must be at least 15 years old.

What Services are Included?

Included services are Buggy rental, bottled water, camel ride, sandboarding, safety equipment (helmets, gloves, shirts, goggles), a professional tour guide, and more.

What is the Maximum Speed of the Buggies?

Our buggies can reach speeds of almost 120 km/hour or higher.

Do You Offer Flexible Timings (Morning or Evening)?

Yes, we offer flexible timings for tours. All timings are available, but it's essential to book your tour in advance. Timings will be confirmed during the booking process.
For any further inquiries or to secure your booking, please do not hesitate to contact us. We're here to make your Dune Buggy Dubai experience exceptional.
More FAQs:
Is the Dune Buggy Dubai Desert Adventure Suitable for Everyone?
Yes, individuals with or without a license can enjoy the Desert Buggy Dubai ride. However, the Dune Buggy Dubai experience is not suitable for pregnant women or individuals with mobility impairments. Children under fifteen years of age are not allowed to drive.
What Should I Wear for the Dubai Dune Buggy Tour?
While riding a Dune Can-am Buggy in the Desert, we provide helmets, gloves, and safety equipment for your use. It's advisable to wear long sleeves, pants to shield against flying sand and the sun, and closed-toe shoes.
What Advice Do You Have for the Desert Adventure Tour?
Listen to your Guide and stay connected.
Opt for comfortable clothing.
If embarking on an evening desert tour, carry a jacket as temperatures drop.
As dune bashing can be rough, avoid overeating before the activity.
Pack essentials like Flip Flops, a Camera, and sunscreen.
Choose the right time for your tour.
What is the Price for the Dune Buggy Dubai Desert Adventure?
The Dune Buggy Dubai tour price starts from 900 AED per hour for two people.
Book Your Dune Buggy Adventure Today
Don't miss out on the opportunity to explore Dubai's deserts in the most thrilling way possible. Book your dune buggy tour with us today and embark on a journey filled with excitement, natural beauty, and unforgettable memories.